Sports & athletics: train to succeed
Are you looking to sharpen your technical skills and performance during soccer practice? Have you suffered an injury during dance class? Or would you just like to improve your technique at the gym? Our physiotherapists and coaches have themselves been elite athletes, and have many years of experience in technique training, injury rehabilitation and preventative training for all from the everyday excerciser to the accomplished athlete.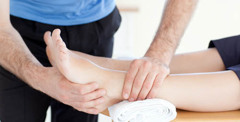 Rapid intervention and accurate diagnosis at the time of injury is essential for reducing the extent of damage, thus allowing for early return to physical activity and sports. Insufficient or improper rehabilitation leads to a high frequency of new injuries. It is therefore important to contact an experienced physiotherapist as soon as possible after an injury has taken place. They will help you to set up a suitable rehabilitation plan and quickly get you back on
the playing field.
Every athlete has an individual limit as to what the body can tolerate. In order to prevent injuries during sports, knowledge about the sport genre and the types of loading that the body is subjected to is crucial. It is therefore important to pinpoint and address individual weaknesses in the supporting musculature in order to reduce the risk of damage. At Physiotherapy Stockholm, we help to review your technique and measure sport-specific mobility and strength. An exercise program is developed based on these results.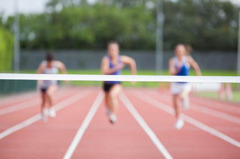 The head therapists at Physiotherapy Stockholm are themselves former elite athletes, and have many years of experience in both training and coaching. Anna Magnusson Sogell has a professional background in classical ballet; she has danced at a New York City Ballet and Pacific Northwest Ballet in the United States and currently has a collaboration with the Ballet Academy in Stockholm. Anna is today an experienced physiotherapist and personal trainer at both the elite and recreational level. Marcus Tari is a professionally-trained dancer and dance instructor with an
extensive background within sports and training. He has taught dance and
held seminars about health and training around Europe, and is today an
experienced medical massage therapist.