Pilates: strength, mobility & flexibility
Sometimes it's just more fun exercising together! Our classes are never larger than 8 persons and are led by an experienced physical therapist / personal trainer. Smaller groups allow for a more personalized training session, where the instructor is better able to see, adjust and correct the technique for each participant.

Pilates is an excellent form of exercise for those who want to develop strong, supple muscles while at the same time working with the body in a calm, controlled and conscious way. 3-6 persons per class.

*Register for group training via our contact form. Registration is binding.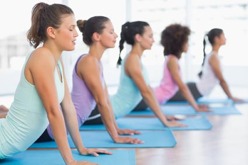 Pilates for Back Pain - This group is suitable for those who are beginners or who have a history of back or neck pain. Much emphasis is placed on proper breathing and execution of technique in order to activate the core muscles and stabilize the spine. Please bring your own yoga or pilates mat.
Instructor: Beate Vaula.

10 sessions: 2 200 kr
Tuesdays @ 17.30 with startin week 8, 2019.

Pilates Circuit - This class combines traditional pilates exercises with
functional training for a more challenging and heart-pumping work-out!
Exercises are done in lying, sitting and standing, and incorporate weights,
pilates balls, rubberbands and pilates machines to achieve an even greater
level of strength and tone. Suitable for those with prior exercise experience.

10 sessions: 2 200 kr.
Dates & times for 2019 to be posted shortly. Send interest inquiry!